Daffodil Show Photos 2012.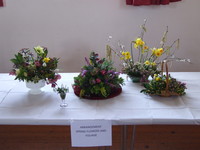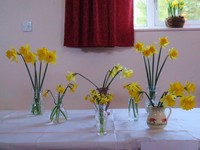 ……………………………
..
SPRING DAFFODIL SHOW: Despite the daffodils flowering late this year, we had a very creditable display which looked most attractive. Lorna Kingdon saw people in at the door after which those who were exhibiting went to register with Gwynneth Doran, Lin Shrapnell and Marissa Conway.
We were delighted to have Shirley Snell as our judge who examined the exhibits in great detail before making her decisions as follows: Single stem, single headed daffodil/narcissus: 1st Frank Doran 2nd Jane Toulson 3rd Pat Hewett Single stem, double/multi-headed daffodil/narcissus: 1st Gwynneth Doran, 2nd Rosemary Clark, 3rd Graham Paramor, 5 stems same or assorted varieties daffodils/narcissi: 1st Barbara Lowe , 2nd Lindy Paramor,  3rd Maureen Amor, Arrangement in own container of daffodils/narcissi and foliage: 1st Barbara Riches, 2nd Maureen Amor, Arrangement in own container of spring flowers and foliage: 1st Liz Bayford, 2nd Wendy Wilmot, 3rd Pat MacKenzie.
.
The certificates, together with chocolate crème eggs, were presented by Gwynneth after which Shirley gave advice and answered questions including how to look for a perfect daffodil. Peter Ford took photographs and refreshments were served by Ivy Spicer and Janice Ford which included chocolate brownies, coffee and walnut tray bake and lemon drizzle cake made by Angela Christie, Christina Tailby and Alex Nixon and which were delicious. May we say a big THANK YOU to Gwynneth for all her hard work in organising the show – well done Gwyn! and to Shirley for judging the entries, to Lin, Marissa, Ivy, Lorna, Angela, Alex, Christina, Janice and Peter, to all those who took part in the show and who came and supported it. Click on each image to enlarge it.
…………………………….