Burns Night Photos 2012
BURNS NIGHT SUPPER Lorna Kingdon saw people in at the door after which our Master of Ceremonies, Barry Pritchard, welcomed everyone. Malcolm Read said Grace which was followed by the supper, superbly cooked by our Chef, Martyn Fry, and starting with cock-a- leekie soup after which Barry gave the Selkirk Grace in a "Scottish" accent with frequent corrections of pronunciation by George Fleming!
.
The haggis was piped in by our Piper, Ian Wallace, and carried by Martyn after which George gave the address to haggis. After giving it the initial stab, George proceeded down the hall continuing the address as he went. Suddenly, he turned and, drawing himself up, brandished his claymore, charged down the hall with a roar which would have warmed the heart of a clan chieftain and speared the haggis. The haggis was piped out by Ian followed by Martyn, Ian remaining to play to us whilst Martyn plated the haggis accompanied by neeps (swedes) and tatties (potatoes), served by Trisha Woodley, Ivy Spicer, Ray Woodley and Janice Ford, George circulating to dispense whisky on the haggis.
.
The supper concluded with Tipsy Laird, a Scottish whisky trifle, followed by the cheese board, coffee and tea with shortbread. Graham Paramor and George Todd did a roaring trade on the bar, Barbara Coulson sold raffle tickets for a selection of attractive Scottish-themed prizes and Peter Ford took photographs. The raffle was drawn, and the spot prize was won by Beryl Morby to whom Barry presented a box of shortbread. George tried to speak about Robert Burns, but was regularly "interrupted" by Barry. We stood to toast Scotland's Bard and then sang a selection of traditional Scottish songs.
.
Barry thanked all those who had contributed and attended, particularly thanking George and Liz Bayford for 40 years' service to our local parish councils. Janice thanked Barry for being our Master of Ceremonies and the evening ended with the singing of Auld Lang Syne.
May we say a very big Thank You to Martyn, his wife, Ruth, who assisted him with the preparation of the supper, to George, Ian and Barry, to Barbara, Lorna, Graham and George, Ray, Peter and Janice, and a special Thank You to Ivy and Trisha who not only assisted with serving, but also did sterling work in the kitchen assisting Martyn; to everyone who helped to set up and clear away and, of course, to everyone who came and supported the evening.

.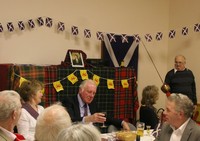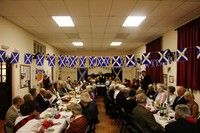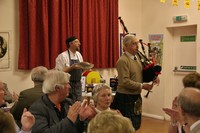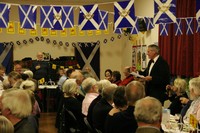 ******************************************************************************