ST PATRICKS' DAY QUIZ EVENING.
…
Lorna Kingdon saw quizzers in at the door; our quizmaster, Barry Pritchard, really kept the evening sparkling with Lin Shrapnell and Ivy Spicer doing a great job as quiz hostesses.
Ray and Trisha Woodley did a roaring trade on the bar and Julia Hardwick was kept busy selling raffle tickets for a selection of attractive prizes.
The evening started a little differently from usual with a music round when Janice Ford played a selection of Irish tunes on the piano for quizzers to identify and then answer questions about. This was followed by rounds on general knowledge and specialist subjects which took us to supper time when we enjoyed a delicious supper prepared by Martyn Fry comprising Irish stew with Irish soda bread followed by Irish chocolate cream liqueur tart; absolutely scrummy – no wonder everyone went up for seconds!
After supper, the raffle was drawn followed by the answers to Heather Yaxley's ingenious suppertime quiz on an Irish theme. This was won by The Banshees to whom Barry presented a basket decorated with rabbits containing chocolate crème eggs.
The second half of the evening began with an Irish general knowledge round followed by rounds on general knowledge and specialist subjects and, during the evening, Peter Ford took photographs. The evening's winning team was The Banshees to whom Barry presented a box of Celebrations chocolates and the trophy. The Bog Trotters came second and were presented with a box of Moments chocolates.
May we say a big THANK YOU to Lorna, Barry, Lin, Ivy, Ray, Trisha, Julia, Janice, Martyn, Heather and Peter, to everyone who helped to set up and clear away, donated raffle prizes and supported the event by coming.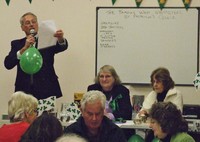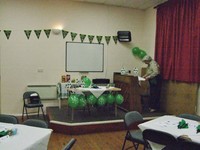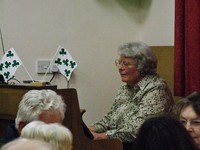 ************************************************************
….